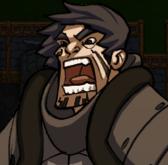 HE CAN'T TALK, ONLY SCREAM!
It's irritating when one of these people enter your shop. Their screaming can drive the classier customers away. They have seriously bad breaths. RAAAAAAAAGH!
Usable Merchandise
Edit
Weapons: Swords, Axes, Spears, Blunt weapons, Daggers, Bows
Armor:
Accessories: Any
Consumables: Any
Ad blocker interference detected!
Wikia is a free-to-use site that makes money from advertising. We have a modified experience for viewers using ad blockers

Wikia is not accessible if you've made further modifications. Remove the custom ad blocker rule(s) and the page will load as expected.