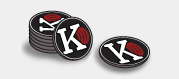 Kongregate Kreds (derived from "credits") are virtual coins that can be spent on upgrades, virtual items and other parts of games at Kongregate, a website which hosts browser-based games (such as Swords and Potions). With those Kreds a user is able to instantly purchase power ups, virtual items, and even able to donate funds directly to the developer of a game on the site.
How to get Kreds?Edit
A user can purchase Kreds by using a specific part of the Kongregate site, where payment can be made in many different countries' currencies by various means ranging from bank transactions to paying by mobile phone. It is also possible to acquire Kreds without using real money, but by completing special offers or filling out surveys (restrictions apply, and note that the effective hourly rate at which Kreds are earned by doing these activities is typically very low).
Special notices
Edit
Kreds are virtual currency solely used on the Kongregate website. There is no way to directly convert them back into cash.
Some transactions require additional fees to be paid.
In the specific case of Swords and Potions, Kreds can be used to purchase Edgebee tokens, with which items can be purchased in S&P.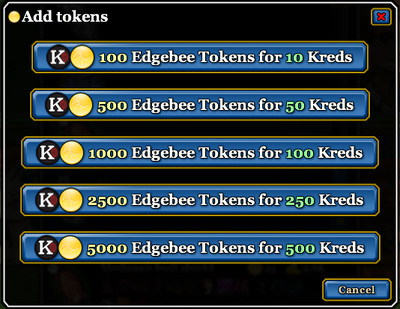 Ad blocker interference detected!
Wikia is a free-to-use site that makes money from advertising. We have a modified experience for viewers using ad blockers

Wikia is not accessible if you've made further modifications. Remove the custom ad blocker rule(s) and the page will load as expected.