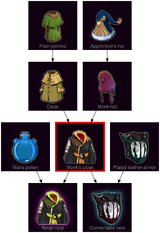 Research CycleEdit
Items that come before and/or after this item in research cycle:
Cloak + Monk hat > Monk's cloak > Reign coat / Comfortable vest
General BuyersEdit
Despite the name, this item is not a cloak and monks will not buy it. This item is medium armor, preferred by Support class customers.
SuggestionsEdit
Items that can be suggested in place of this one

The following items cannot be suggested in place of this one (0% success):
Ad blocker interference detected!
Wikia is a free-to-use site that makes money from advertising. We have a modified experience for viewers using ad blockers

Wikia is not accessible if you've made further modifications. Remove the custom ad blocker rule(s) and the page will load as expected.