There are some shopkeeper quests where you don't have to do anything with your own craftsmen and craftswomen, but can ask any adventurer to do this quest for you. From time to time, adventurers come into the shop and ask for donations for their quests. In the case where there is an outsourcing quest available, the "Quests" button will be active on this panel. They don't do the quests with 100% success rate, but if they fail, you can ask another adventurer again without any form of penalty.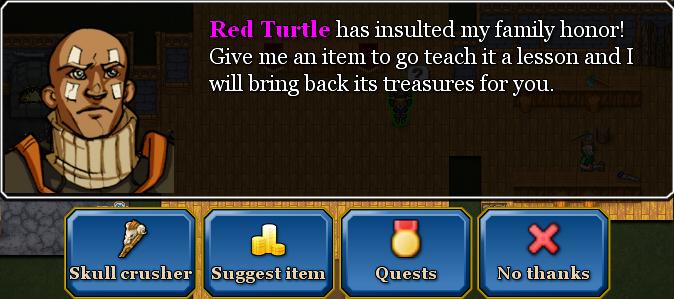 (Note that the Quest dialog was changed in the Oct. 27 and Nov. 10 updates and now looks like the one below for normal questions; for outsource quests, the "Quests" button will be highlighted like above)
List of quest monsters
Edit
This is intended to be a comprehensive list of monsters our brave adventurers fight. It has no real practical purpose.
List of Quest Monsters

A - F

Abobinable
Abyshell
Acolyte
Admiral Eagle
Ancestral Lobster
Archmage
Bait Keeper
Barren Lapia
Belzebhor
Belzebut
Big Boned
Black Bearded
Black Spider
Bleech
Bloglodyte
Bloodbat
Blood Knight
Blue Turtle
Book Worm
Boss Gerbip
Boss Mushrhum
Bovile
Butterbat
Calamity
Captain Cacti
Catcher
Cave Growth
Champ
Charmer
Cleaning Fairy
Cloud Stalker
Coin Juggler
Coldfoot
Cold mistress
Colonel Talon
Commander Condor
Corrupt Banker
Crab Catcher
Crystaline Sickle
Cultist leader
Cursed Rider
Cyclop Outcast
Darkened Soldier
Dark Kurtey
Dark Tambourines
Dartangle
Death Pearl
Depth Shocker
Dept Striker
Desert Striker
Disciple
Drunken Climber
Dwarvish Wraith
Earth Beetle
Earth Worm James
Electrocaster
Emerald cut
Evil Clam
Evil Head
Evil Rug
Fallen Musketman
Fantom Soldier
Fatcat
Fat Pincers
Feline Rider
Fiery Maiden
Fiery Ooze
Fire Snail
Fire Worm
Fishcat
Fisher Monger
Frock
Frosty Dragon

G - O

General Vulture
Genificus
Gertrog
Ghould
Gloat
Graverobber
Great Red
Green Dragon
Griffin
Guardian Snail
Gustfly
Healing Lapia
Highlion
Holy Drums
Huntress
Ice Worm
Initiate
Insane Barbarian
Insane Beggar
Isickle
Izilisk
Jawsknife
Keymaster
Kind old lady
King Quetzalcoatl
Krakken
Kurtey
Lapia
Lava Ooze
Lost Explorer
Lucida
Mad Cow
Magical Shield
Master Caster
Medusian Bull
Mega Cacti
Mentalista
Metallic Mushrhum
Mister Frozen
Mistress
Molten Core
Mr. Grabber
Murble
Mureena
Musculard
Mushrhum
Night Spider
Nimbus
Not-A-Rat
Not-A-Rat Boss
Octobell
Odd Couple
Ogre-Demon
Old Bones
Old Thug
Orange Turtle
Oskar

P - Z

Palabird
Percushions
Pelectric
Petty Thief
Pile-Of-Ashes
Pile-O-Gas
Pile-O-Goo
Pile-O-Trash
Pink Pudding
Pirate Lobster
Plasmic Ooze
Polar Lizard
Polyphem
Priest
Purple Turtle
Quarry Master
Queen Calamato
Queen-o-clean
Reapor
Rebel
Red Devil
Red Dragon
Red Lobster
Red Mushrhum
Red Turtle
Ruby Cut
Rusty Armor
Serial Killer
Shadow Coyote
Skydrake
Slalom Emperor
Slicer&Dicer
Snail Mail
Sniperoo
Snowblade
Solid Jumper
Spiky Footman
Spirite
Squidiver
Staglamite
Staglatite
Stoad
Stone Cutter
Streaking Carpet
Sturdy Shield
Subzero Wyvern
Summit Hero
Summit Witch
Swallican
Tall Guard
Tax Collector
Titan
Thunder Worm
Triclops
Tridentite Assassin
Tridentite Champion
Tridentite Shaman
Troclops
Tux Shooter
Unhealer
Vapor
Venomous Mushrhum
Viracocha
Weathered Shield
Wicked Head
Wisecat
Wolf-a-lot
Wolf Rider
Wolf Spider
Yeti
Zombull
Ad blocker interference detected!
Wikia is a free-to-use site that makes money from advertising. We have a modified experience for viewers using ad blockers

Wikia is not accessible if you've made further modifications. Remove the custom ad blocker rule(s) and the page will load as expected.