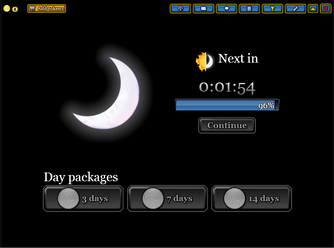 To sell items, create items, research recipes, improve your store or use your thug in the game you need to have at least one gameday point.
You gain 1 point every 15 minutes, up to the amount of 5. In addition you can buy extra days with Edgebee tokens.
When you are out of day points a screen will show up telling you how long you have to wait before you will have regenerated a gameday point.
Ad blocker interference detected!
Wikia is a free-to-use site that makes money from advertising. We have a modified experience for viewers using ad blockers

Wikia is not accessible if you've made further modifications. Remove the custom ad blocker rule(s) and the page will load as expected.