Fully improve the carpenter's work area.

UPDATE: With the addition of the Wood Bins, you now only need to make 9 of the 12 upgrades (Tools, Work Bench, Saws, Wood Bin, 3 levels each) to get this achievement.
Reward: You can buy 250 token little carpenter's dog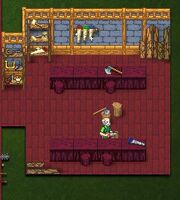 Ad blocker interference detected!
Wikia is a free-to-use site that makes money from advertising. We have a modified experience for viewers using ad blockers

Wikia is not accessible if you've made further modifications. Remove the custom ad blocker rule(s) and the page will load as expected.